Blog
Introducing the dbt Labs Technology Partner Program
Introducing the dbt Labs Technology Partner Program
Say hello to the newly formalized dbt Labs Technology Partner Program.
Read now
While conversations in the dbt Community are often centered around dbt, they just as often go well beyond it – broadly covering data teams' journeys delivering business value with the modern data stack. However you happen to interpret what constitutes the 'modern data stack', there are at least a few elements that data practitioners seem to agree on: it's cloud-based, modular, and allows teams to build with best of breed tools.  
dbt is increasingly becoming a standard for turning raw data into insights as part of the modern data stack, having now been adopted by more than 12,000 organizations. As a direct result, we're seeing a proliferation of innovative tooling that complements and extends dbt's workflow.
We think that's fantastic, and want to facilitate it as much as possible.  While we've been working closely with a budding ecosystem of technology partners for over two years, today we're taking the next step: formalizing a technology partner program. 
The newly crystallized dbt Labs Technology Partner Program is a framework that offers several benefits to partners. It spans development tools and resources, guidance on integration development from our Partner Engineering team, and advanced access to the latest features offered through dbt Cloud for development and testing. Partners will also have the opportunity to market and sell joint solutions with the dbt Labs team. 
With the official launch of this program, we hope to even better equip our partners to continue developing seamless, trusted integrations for joint users.
Enabling partner adapters in dbt Cloud
As a track within the Technology Partner Program, we're also announcing the dbt Adapter Verification Program with the goal of enabling partner-developed adapters in dbt Cloud. Designed for data platforms that process queries pushed down by dbt, the track includes best practices and technical guides paired with an engagement model meant to facilitate user trust, so customers can be confident when deploying in production. dbt Labs partners can achieve a designation marking adapters they build and maintain as Verified for development best practices, compatibility with the latest version of dbt, and a consistent user experience across documentation, features, and support.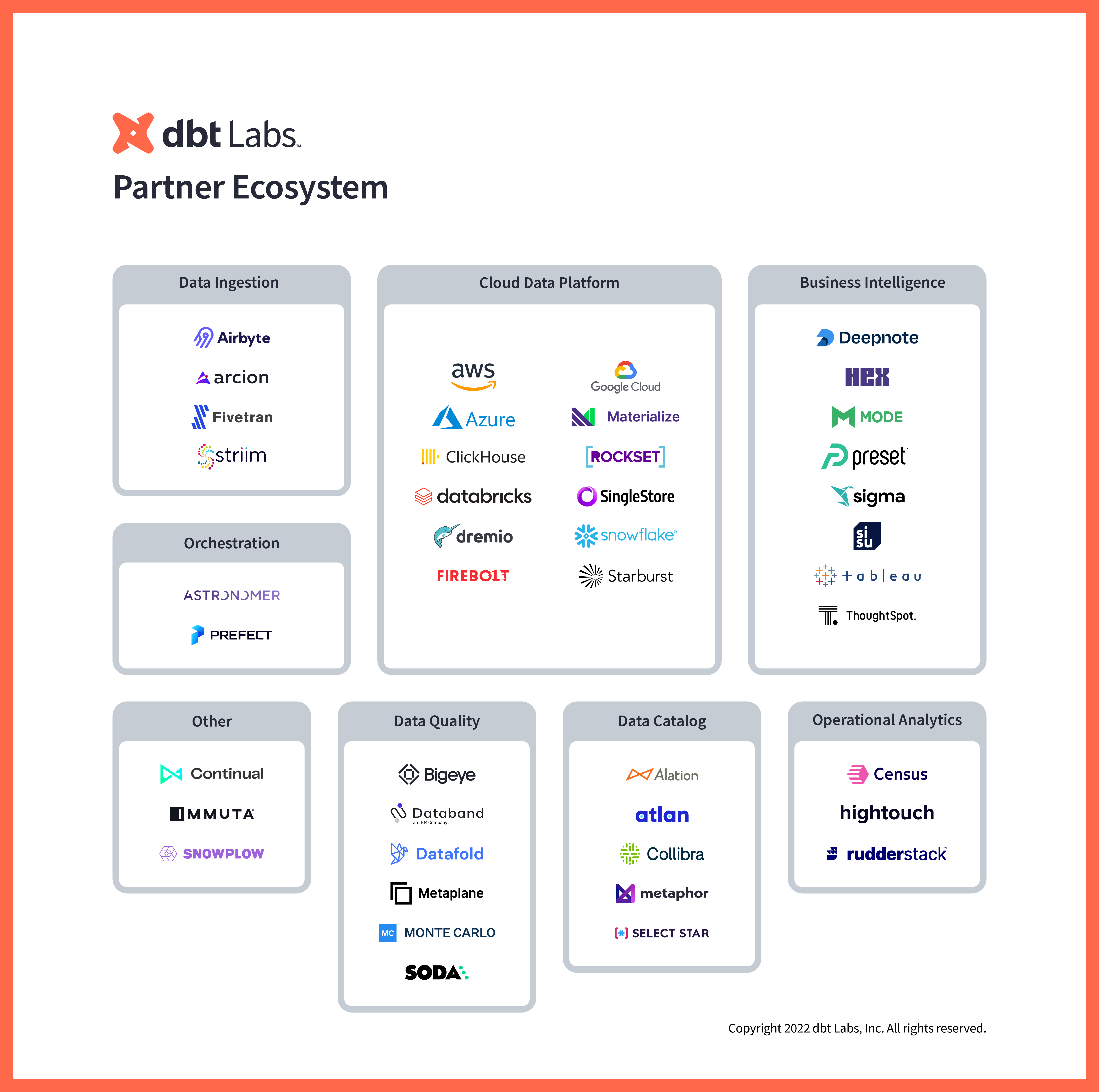 Toward richer integrations
The current partner ecosystem includes partners developing a range of products across the data stack that integrate with dbt in one or more of the following ways:
Cloud data platforms are enabling data teams to collaborate on data transformation using dbt, providing performance-optimized  storage and compute resources to facilitate querying. 
Data catalogs are facilitating discovery by leveraging dbt metadata and docs to surface model descriptions inside catalogs, as well as powering governance capabilities through dbt's lineage data.  
Data quality tools are supplementing dbt tests by layering on algorithms for anomaly detection, providing end-to-end visibility across data pipelines, and offering central incident response systems.
Business intelligence tools are allowing data models and metrics defined in dbt to be visualized and explored, in addition to surfacing dbt metadata that provides business users with insights on data freshness. 
Data ingestion tools are orchestrating dbt Cloud jobs to trigger model runs upon loading new data into the warehouse to ensure models meet timing and accuracy business requirements for reporting.
Operational analytics tools trigger syncing modeled data back to business applications when dbt models are materialized in the warehouse to activate data for downstream workflows across line of business functions.
With the support of this ecosystem of deep partnerships across the modern data stack, we believe we're well positioned to help customers solve some of their trickiest data challenges going forward. 
Last year's introduction of the dbt Cloud Metadata API helped accelerate the growth of dbt Labs' tech partner ecosystem, allowing users to see important context such as freshness and lineage in a variety of downstream tools, helping them make more informed decisions quickly.
The next challenge we aim to help users overcome is alignment on consistent, accurate metrics across the organization. That's why our team has been actively developing the dbt Semantic Layer, as dbt Labs co-founder Drew Banin dove into in his recent blog post. We're working closely with design partners focused on a variety of Business Intelligence, data science, and other analytical use cases to develop deep integrations that will facilitate more consistent, accurate metric reporting. We're tremendously excited about this, and can't wait to share more with the world.
Become a dbt Labs partner
If you're helping customers solve problems in the data space through a product integration with dbt and think you may be a good fit to be a dbt Labs partner, we'd love to chat. Regardless of the stage of your product development or customer adoption, we're interested in exploring ways we might be able to work together. You can reach out through the partner portal application here, and a member of our team will connect with you shortly.
Join us at Coalesce 2022
The launch of dbt Labs's Technology Partner Program comes ahead of our biggest event of the year: Coalesce, the Analytics Engineering conference, taking place October 17-21. 
This year we're happy to share the introduction of our first dedicated Partner Day, taking place on Monday, October 17th. It will include content specifically for our partners, as well as opportunities to connect with the dbt Labs team in person.
Last modified on: Nov 22, 2023